Safe Routes will announce the deployment of its encouragement program for the second half of the school year during a volunteer luncheon on January 19 at the Transportation Authority of Marin in San Rafael. Dedicated school and parent volunteers will host welcome tables to greet walkers and rollers, run contests, and provide other actions such as all school assemblies to encourage families to choose a green way to school.  New and exciting this year, elementary students will have a chance to win a Cleary Bike for participating in the J.E.D.I Challenge.
Safe Routes to Schools has set the suggested dates for the elementary schools' encouragement events. Depending on individual school schedules, the dates may vary. Middle and high school events are customized per school site.
Calendar of Upcoming School Events – Spring 2023
Walk and Roll Wednesday (elementary schools) – February 1st
J.E.D.I. Challenge to win a Cleary Bike
(elementary schools):
March 1 & 15, April 5 & 19, May 3
Bike to School Day (all K-12th grades):  May 3rd
Bike Hero Award Nominations
(middle and elementary students):
Month of May
Build Habits
In order to make 2023 your Green Commute Year, build habits now so your kids can join all the fun this spring. Walk, Bike, Bus, Carpool, Park and Walk to participate and make 2023 A GREEN COMMUTE YEAR for you and your community.
Walking and rolling to school, especially in brisk and rainy weather, helps to wake up sleepy-heads and allows kids to get their ya-yas out for a day of better learning. Walking and biking to school allows children to interact with their peers and build relationships, which can have a positive impact on their social development. This can also help children to feel more connected to their school and community, which can improve their overall well-being.
Pro Tips To Get Started
Start small and develop a consistent routine. Pick one day per week and set alarms 15 minutes early to begin. Routine builds healthy habits, but most importantly, you will develop memories to cherish for a lifetime. There's nothing like the simple joy of splashing in puddles or finding treasures enroute to bring smiles to faces. If the full commute from home is inconvenient or the traffic is hectic, drive partway, then park and walk from a neighborhood with quiet streets and few intersections.
Inviting others to carpool or park and walk solidifies friendships and may even give parents a much needed break from their hectic, daily commutes as they take turns bringing kids to school. Not surprisingly, parents say that kids get out of bed faster when they can look forward to traveling to school with friends.
A Bay Area native, Katy Vanoni is the new Education Coordinator for Safe Routes to Schools. She is from now on, the contact person for all schools interested in scheduling pedestrian and bike safety classes for students throughout Marin. Katy replaces Peggy Clark, who was with Safe Routes for the last 15 years.
Before starting with her new job last September, Katy was an elementary school teacher in Marin County and the East Bay. Katy believes that by learning cycling early, children will have the skills and enthusiasm to ride for the rest of their lives.
Katy will be scheduling Safe Routes' indoor and outdoor safety education courses provided to 10,000 students from 2nd to 12th grade at 50 Marin schools annually. Her focus will be on fostering connections with teachers to bring the Safe Routes team, bikes, and courses for students to hone their pedestrian and biking skills, while following the rules of the road.
Leading up to teaching in the Bay Area, Katy worked in various roles, including as an Art and Sports volunteer teacher to children in Belize. She loves cycling challenges such as sprint triathlons and the Three Bears ride. She obtained her League Certified Instructor certificate in 2011. She lives in San Rafael with her husband and son.
To schedule classes at schools, contact Katy@marinbike.org.
Safe Routes will miss Peggy Clark, who has been with Safe Routes since its early days. We wish her the best in her new endeavor.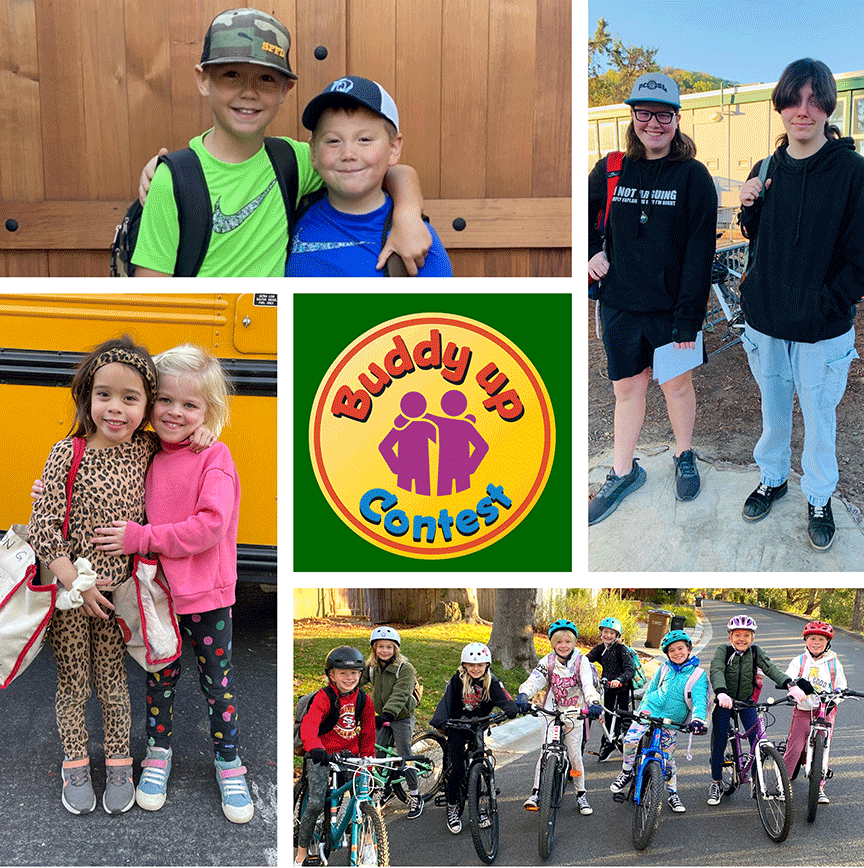 Fourteen elementary school students were the happy winners of the new Buddy Up contest conducted by Safe Routes to Schools this fall.
The multitude of entries told the inspiring stories of many buddies, boys and girls from different backgrounds and from all over Marin, who decided to take on the challenge to find friends to walk, bike, bus or carpool to school together. Here are the winners and their heartwarming stories.
Westin & Jase from Olive Elementary School
Westin and Jase have always loved looking for treasures. They enjoy collecting rocks, sticks, and different leaves, among other things like coins, nails, and "dinosaur bones" on their walks. The items that do not end up going through the washing machine have made it into a collection box that they constantly look through and update. Each day they are excited to walk to and from school together when they continue to build their collection.
Erin & Emerson from Reed Elementary School
After a hard first bus ride for Erin on her second day of Kindergarten, her classmate and new friend Emerson offered to ride with her. The next week, they held hands as they boarded the bus (and for the whole way to school), and they haven't looked back since. They  became fast friends and now love riding the bus together. During the ride, they share letters and drawings they make for each other at home. Recently, they have been asking someone new to sit with them each day. We are so grateful for the bus and for their friendship.
Scottie & Gianna from San Jose Middle School
Scottie and Gianna love to bike to San Jose Middle School together. Recently, Scottie broke her arm, but that did not stop the pair from "getting their steps in" and walking together to and from school. They are each responsible for setting their own alarms, arriving at their meeting spot on time, and messaging their parents once they are off to school. They practice the same routine on their way home.
Aurora, Delaney, Eoldie, Hannah, Kate, Lila, Mackenzie, and Talia from Bacich Elementary School
This group of third graders has been biking to and from school and affectionately been nicknamed "The Peloton" by neighbors who witness their numbers swell as they pick up more and more friends along the way. They are always looking out for each other, on the road and at school. They love being in a large group because it makes it easy to maintain the habit of riding every day, even when one or two people can not make it. There's always someone (and more often lots of people) to ride with!
In the spirit of friendship, let's continue to team up to travel together in the upcoming year, fostering healthy habits, community spirit, and fond memories while reducing chaotic traffic and unhealthy pollution. As our fall Buddy Up contest winners demonstrate, it's well worth the effort.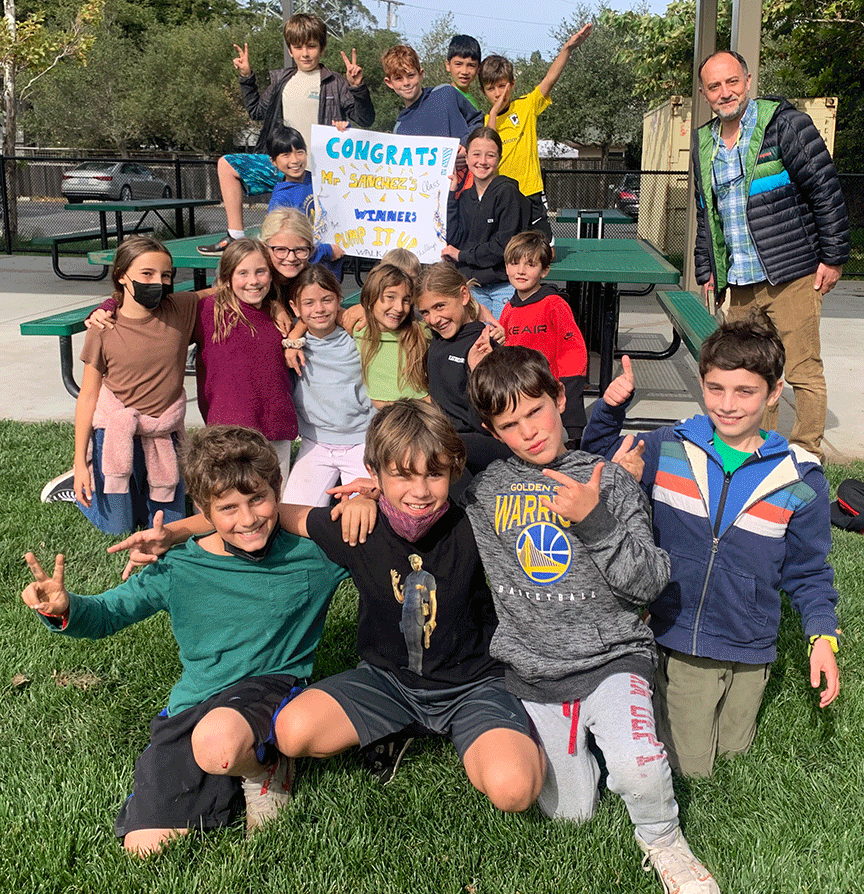 Twenty fourth graders from Tam Valley Elementary School and their teacher, Ms. Sanchez, were the proud winners of the Pump It Up! contest sponsored and organized by Safe Routes to Schools. The children were awarded a popsicle party and Ms. Sanchez received an Ortleib backpack.  The class was declared the winner after a bike rodeo conducted in October.
The new Pump It Up! Challenge encourages students to put their skills learned during the bike rodeos to use. For a week following the rodeos, teachers ask students how they get to school each day.  The tallies get reported to Safe Routes to Schools and the class with the most walkers and rollers wins a popsicle party and bragging rights.
Check out the Safe Routes classes and see why students are excited when our trailer and Instructors roll onto campus. 
Pictured here is Mr. Sanchez's class from Tam Valley Elementary – proud winners!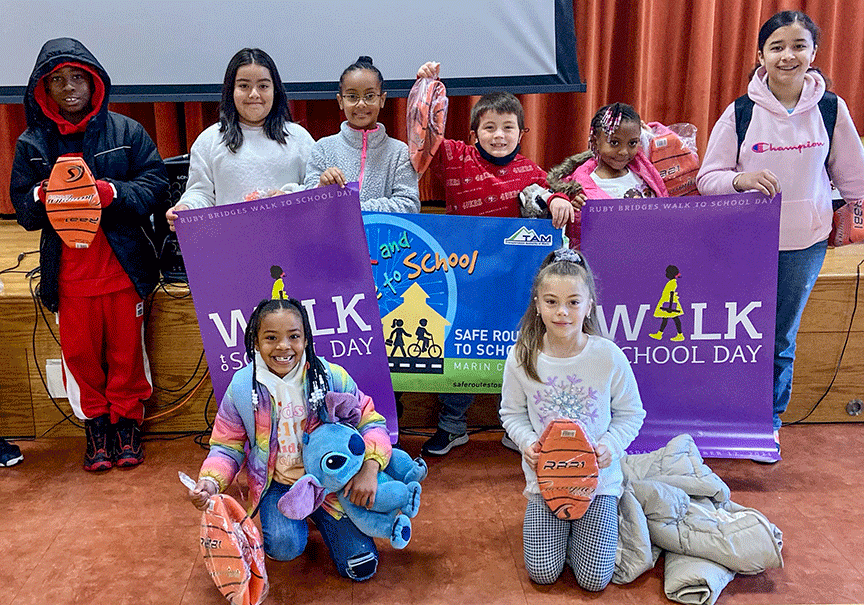 Looming wet weather and cold temperatures did not stop Martin Luther King students in Sausalito from walking and rolling to school on December 1 to celebrate the Ruby Bridges Walk to School Day.
Ruby Bridges, an African American girl, walked into an all-white school in New Orleans every day amid angry protesters screaming at her and her mother along the way. Ruby's perseverance was pivotal in the desegregation of classrooms.
In addition to the morning Walk and Roll, six middle school leaders came from the Philip Street campus to the Nevada campus to talk to their elementary school peers about Ruby's historical contributions. "In tandem with the mission of Safe Routes, we celebrated our students who ride bikes or walk to school and encourage those who don't to give it a try in the future," said MLK School's Community School Director Phillip Logan.
To help celebrate  Ruby Bridges Walk to School Day, Safe Routes held a raffle of ten basketballs among the elementary school students who used their feet to go to school.
The event was co-sponsored by community partners of the Sausalito School District.
Ross Valley – Friday, Jan 13, 2023 at 10:00 AM
Novato – Thursday, Jan 18, 2023 at 5:00 PM
Kentfield – Thursday Jan 19, 2023 at 9:00 AM
Reed – Thursday, Jan 25, 2023 at 10 AM
West Marin – Tuesday, Jan. 31, 2023 at 7 pm
San Rafael – Thursday, Feb 2, 2023 at 5:00 PM
Sausalito-Marin City – Tuesday Feb 7, 2023 at 5:00 PM
Larkspur-Corte Madera – Thursday, Feb 9, 2023 at 3:30 PM
Ross – Monday, Feb 13, 2023 at 10 AM
Mill Valley – Thursday Feb 16, 2023 at 9:30 AM
Contact Wendi Kallins if you are interested in joining a task force or if you would like a copy of archived task force meeting notes.
Marin Safe Routes kicked off the fall with two new walk audits after having to suspend them during the pandemic. The engineering team worked with residents of Sun Valley Elementary and Strawberry Point to assess the walking and biking conditions for both schools. Elli Abdoli, Mill Valley School District Trustee, and Geoff Rubendall, Sun Valley co-team leader,  did an excellent job of inviting parents, neighbors, and the school principals to participate and of mapping out the route for our walk.
For each school, the audit started during early drop off time to observe some of the conflicts that occur between students and cars.
Sun Valley's route runs along 5th Avenue in San Rafael, which does not have enough room for bike lanes and has conflicts at each intersection. Many parents park at Andy's Market on California Street and walk from there,  but there is limited parking and no sidewalks on California Street.
Strawberry is a hilly neighborhood, with no or limited controls at intersections whose steepness makes visibility challenging. It is an older neighborhood that predates the school that has many streets with incomplete or missing sidewalks. Another issue is that  students cross Strawberry Drive as cars are rapidly turning from Tiburon Boulevard.
The good news is that the group observed a number of walking school buses for both schools. Supervised walking groups help to create more visibility and keep the kids safer.
The Safe Routes engineering team works with the local jurisdiction to come up with suggested solutions to these issues. In these cases, it is the County of Marin in Strawberry and the City of San Rafael for Sun Valley. The Safe Routes team will go back for further studies, to make suggestions to the jurisdictions, and, once approved, to bring back concept plans to the task forces. Most of the past recommendations have resulted in completed projects and safer routes to schools for Marin students.
The City of Larkspur constructed several Safe Pathways and Complete Streets projects in 2022 to make it easier and safer for students to walk and roll to school.
Doherty Drive, Magnolia Boulevard, and Bon Air Road in Larkspur received multimodal infrastructure upgrades in 2022, including pedestrian enhancements, bike lane improvements, and traffic calming.
Buffered bike lanes were installed throughout Doherty Drive, a separated bikeway was completed in front of the Redwood High School, and other improvements were made to the Doherty Drive corridor using TAM's Measure A and AA Safe Pathways to Schools funding. This helps connect several schools, parks, and residences along Doherty Drive to existing multi-use paths and closes crucial gaps in the bike network.
New bike lanes were also added on Magnolia Boulevard and several uncontrolled pedestrian crossings were enhanced with traffic calming features near Marin Primary & Middle School. Bon Air Road saw the completion of the new multimodal bridge and intersection improvements. These improvements will give more students across the city an opportunity to safely walk and bike to school.
Holiday gifts came early to 42 elementary school students in Novato. On November 9, Safe Routes to Schools along with School Board Trustee Diane Gasson and Eric Lucan of Mike's Bikes coordinated the delivery of adjustable helmets to children who could not afford them. The student recipients were from Lynwood, Lu Sutton, and Loma Verde Elementary Schools.
"This [gift] is of great help to parents who don't have enough money to buy helmets. For me, as a mother of a student, it is a great relief to think that my kids don't have to ride their bikes without a helmet," said Kelly Lopez, who has two children at Lu Sutton.
Staff members from Lu Sutton  were seeing children riding their bikes and scooters daily without the needed head protection. The office expressed concern to Safe Routes, which relayed the issue to Trustee Diane Gasson. Gasson started a GoFundMe campaign among members of the Novato community to help not only Lu Sutton students, but also those from Lynwood and Loma Verde.
Gasson also asked Lucan, who is both the mayor of Novato and chief marketing officer for Mike's Bikes, if Mike's Bikes  could pitch in.
"I coordinated with Eric Lucan and he was able to give me a [low] price for the helmets, with the adjusting dial in the back, in the bright colors that we requested. Between the two of us we could get 42 helmets for the kids," said Gasson.
The story, covered by the Marin Independent Journal, can be found athttps://www.marinij.com/2022/11/09/safe-routes-to-school-donates-bike-helmets-to-novato-students/
The end of November marked the end of another successful Street Smarts rollout. For six weeks, Marin County drivers, walkers, and cyclists were reminded to keep their 'Eyes Up' to improve safety for everyone.
The rollout saw the unveiling of bright new banners and signs as part of the campaign's data-driven refresh. Marin County residents and visitors could spot the messaging on light poles, buildings, buses, and on lawns throughout the county.
Online, people shared safety-related images and used colorful email signatures to show their support and encourage safe behavior. Keep your eyes up for future rollouts in 2023.
Safe Routes to Schools has implemented two new education programs this year promoting transportation mode shifts and increasing safety for Marin County students.
9th Grade Share the Road: San Marin High School, Novato
In early November, Safe Routes Returned to San Marin High School in Novoto to educate 150 ninth grade students. The primary goal of the Share the Road class  is to identify main causes of injury or fatal crashes on roadways and how students can avoid them as pedestrians, cyclists and emerging drivers.
Students remarked what they learned through the class:
"Many collisions/ crashes are preventable. Sharing the road and knowing your roles and rules are very important to stay safe."
"[Appropriate] speed is extremely important, do not ever look at your phone when driving, walking, or biking."
Students were also invited to join Safe Routes' instructors to practice traffic safety skills on their bikes, and to participate in a contest by submitting a video about how to increase traffic safety among their peers.
This spring, Safe Routes will bring this class to other Marin high schools with the goal of increasing safety education for older students.
E-Bike Education: White Hill Middle School, Fairfax
Electric Bicycles have become popular with many of our middle and high school students. While Safe Routes to Schools celebrates healthier and greener shifts away from car trips, community members have expressed concern about the safety of young, emerging e-bike cyclists. In addition to the "hands on" instruction already provided to all Marin middle school 6th graders, White Hill Middle School requested Safe Routes teach a dedicated class for students who commute via e-bike. In November, 30 sixth to eighth grade students were taught the legal requirements to ride an e-bike, the rules of the road, and the skills necessary to maneuver a heavy and more challenging device. Students and their parents signed a pledge that they would ride safely, obeying traffic laws. Safe Routes Instructors, along with Marin County Bicycle Coalition's E-Bike Smart Marin program, will develop additional classes in 2023.